Skip to content
Skip to navigation menu
HT4P Safety Commander Safety Tablet Holder
The new HT4P Safety Commander was built on the success of the HT3P by incorporating end-user feature requests for additional networking and operator interface functionality.
The HT4P Safety Commander is an ergonomic device enabling users to securely hold and protect a human-machine interface (HMI) tablet, while providing power, networking, and hardwired emergency stop (e-stop) and other operator interface devices. OEMs and automation designers can now provide flexible and safety-rated operator interface options for equipment, robotics, collaborative robots, automated guided vehicles (AGVs), autonomous mobile robots (AMRs), and other manufacturing system applications.
Key Features: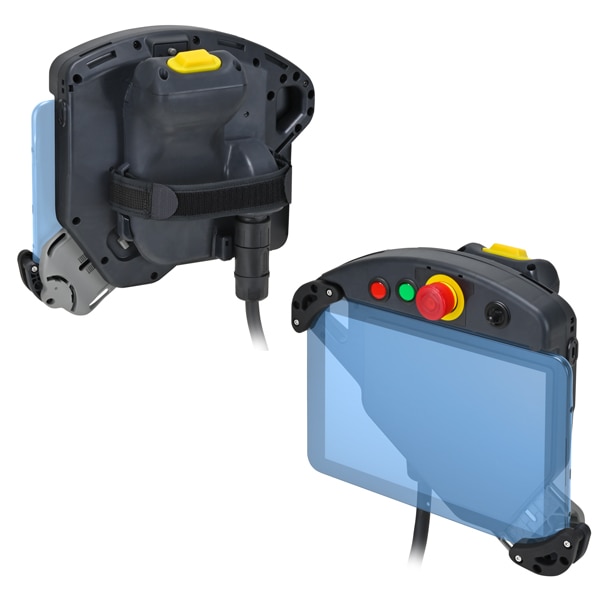 HT4P IDEC Safety Commander™
List of compatible tablets
This list of IDEC compatible tablets is based on the results of the tablet-mounted Safety Commander and USB charging.
・Tablets other than those mentioned in the below list can be mounted, such as:
 Screen sizes of 8 to 11 inches (approx.), tablet diagonal length: 240 to 300 mm (~320 mm when extended), tablet thickness: 10mm (standard) ~24mm (with optional parts)
 However, depending on the tablet, the power button, volume buttons, and USB port on the tablet, may interfere with the mounting hook on the product.
 If so, change the position of the hooks or spacers so that buttons and USB ports do not interfere with each other.
・The results may differ due to OS upgrade or model change of the tablet.
・If you have any questions regarding tablet installation or USB charging, contact IDEC. 
Manufacturer
Model
OS
OS Ver
Installation confirmation
USB communication confirmation
USB charge confirmation
Note
KYOCERA
KC-T304C
Android
11
✓
✓
✓
ー
Apple
iPad Pro 11 inch
iOS 
15.1
✓
✓
✓
ー
Microsoft
Windows Surface GO2(DESKTOP-GGSQUV5) 
Windows 
10
✓
✓
✓
ー
Microsoft
Windows Surface PRO7(DESKTOP-ALH86LH)
Windows
10
✓
✓
✓
ー
Samsung
Galaxy Tab Active pro SM-T540
Android
10
✓
✓
✓
When accessory tablet thickness adjustment kit A is used
Samsung
Galaxy Tab S5e SM-T720
Android
9
✓
✓
✓
ー
Samsung
Galaxy Tab S7+ 5G SM-T976N
Android
10
✓
✓
✓
ー
ELECOM(Logitec)
LZ-AA10
Android
9
✓
✓
✓
When accessory tablet thickness adjustment kit A is used
■ELECOM's tablet homepage
https://pc.logitec.co.jp/detail/9003.html
Lenovo
Tab M10 HD 
Android
10
✓
✓
✓
ー
Catalogs & Brochures
Instruction Sheet
Catalogs & Brochures
Instruction Sheet