Skip to content
Skip to navigation menu
FC6A MicroSmart PLC
The MicroSmart FC6A series is available in two types of CPUs: Plus and All-in-One. The Plus type has a dual RJ45 Ethernet port, embedded web server functions and the capability to expand up to 2060 I/O, while the All-in-One type has an embedded serial port and RJ45 Ethernet port capable of expanding up to 520 I/O.

The next generation IDEC MicroSmart FC6A Plus PLC stretches performance beyond micro PLC limits! With its 2,060 I/O capacity, this PLC can control large machines or entire small-scale manufacturing facilities, providing more capabilities for even the most demanding applications. MicroSmart FC6A Plus CPUs now support EtherNet/IP™ protocol. With the addition of industry-standard EtherNet/IP™ scanner capabilities, the FC6A Plus can now connect with, monitor, and control any I/O, variable speed drive, or other intelligent automation device using this popular industrial protocol. In addition, the FC6A Plus can be configured as an EtherNet/IP™ adapter, allowing it to interact with other peer and supervisory systems, such as PLCs and HMIs.

The FC6A All-in-One CPU is a powerful micro PLC with up to 520 digital I/O and 126 analog I/O. Three models are available, each with 24V DC or 100-240V AC input power. The 16 I/O model has 9 inputs, and 7 relay or transistor outputs. The 24 I/O model has 14 inputs, and 10 relay or transistor outputs. The 40 I/O model has 24 inputs, and 16 relay or transistor outputs. Each model also includes an integral 0-10V DC analog input. The 16 and 24 I/O models can accommodate one plug-in cartridge, while the 40 I/O model can accommodate two plug-in analog cartridges.
Key Features: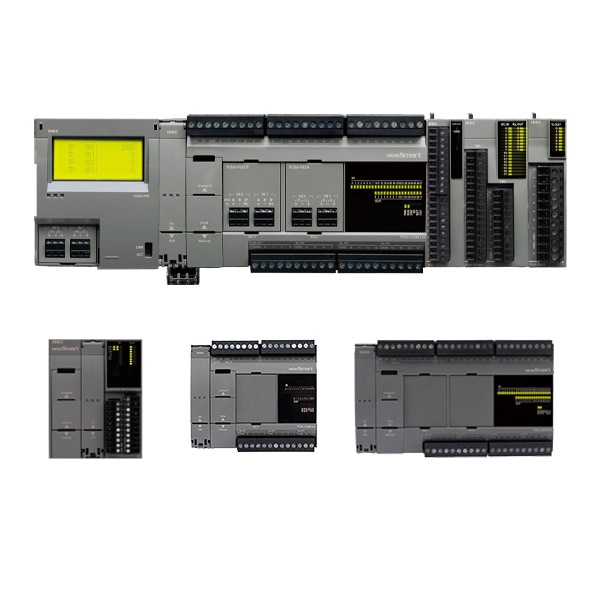 Catalogs & Brochures
Instruction Sheet
Manuals
Approvals and Standards
Others
Software
Application Notes
Catalogs & Brochures
Instruction Sheet
Manuals
Approvals and Standards
Others
Software
Application Notes